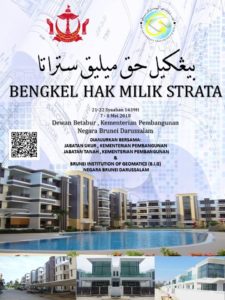 07 May 2018, Monday, Bandar Seri Begawan – Survey Department, Land Department and Brunei Institution of Geomatics hosted Strata Title Workshop today, from 7th of May 2018 until 8th of May 2018, in Dewan Betabur, Ministry of Development. The two days' workshop is specifically organized for Ministry of Development and its departments. A separate session will be organized for the public and other professionals.

A Strata Title is the title issued to each unit in a multi-storey building where permission to subdivide the building is approved. Land Code (Strata) Act (Chapter 189) was introduced in His Majesty Sultan Hassanal Bolkiah Mu'izzaddin Waddaulah ibni Al-Marhum Sultan Haji Omar 'Ali Saifuddien Sa'adul Khairi Waddien, Sultan and Yang Di-Pertuan of Brunei Darussalam's Titah in 1999 and has been fully implemented since 1st July, 2009. The Act was enacted in order to allow anyone who wishes to own property in the form of units in building lots in Brunei Darussalam.

The objectives of the workshop are as follows:

1. To learn good practices related to Strata Titles done by the other countries such as Australia, Malaysia and Singapore.
2. To group officers in the handling of strata titles and licensed surveyors within a platform that enables information sharing and ideas.
Four speakers from abroad who specialize in the management of Strata Titles were invited to present their papers in this workshop:
NO. SPEAKERS' NAMES
PAPER TOPIC ORGANISATIONS
1. Mr See Seng Guan "The Characteristics of a Successful Management Corporation" Surbana Jurong Consultants Pte. Ltd, Singapore
2. Mr So Sun Sing "Strata Title Act in Malaysia" Persatuan Juruukur Tanah (PEJUTA), Malaysia
3. Sr Mohd Azua bin Mohd Zain "Subdivision of Building or Land: Rules and Conditions" Jabatan Ukur dan Pemetaan Malaysia
4. Dr Nicole Johnston "The Challenges Confronting Strata Title Properties and the Lessons Learned" Deakin University, Victoria, Australia
Present as the Guest of Honor for the Opening Ceremony of the Workshop was Yang Berhormat Dato Seri Paduka Awang Haji Suhaimi bin Haji Gafar, Minister of Development, Brunei Darussalam. Also present at the Opening Ceremony of the Workshop were the Permanent Secretaries of the Ministry of Development, Heads of Departments and Heads of Divisions.
About 100 officers and staffs from Ministry of Development and its department as well as the B.I.G. members joined the workshop. 4 focus topics such as Registration Issues, Unit Entitlement vs Individual Shares, Management Corporation and Roles of Land Surveyors, Valuers and Estate Agents were discussed and presented in groups. The results of the discussion has been made as the workshop's resolution.

Present as Guest of Honours for the Closing Ceremony of the Workshop was Yang Mulia Dr Dayang Nor Imtihan binti Haji Abdul Razak, Acting Permanent Secretary (Administration and Finance), Ministry of Development. The Workshop Resolutions was presented by the Workshop Director, Haji Mohd Don bin Haji Omar. The handing over of the Workshop Resolutions to the Guest of Honour was done by Haji Salleh bin Haji Jalil, Vice President of B.I.G. With this workshop, it is hoped that participants will acquire knowledge based on experiences and researches made by the invited speakers.