SOME 150 participants comprising Brunei government officers, stu-dents and delegates from Australia, Britain, China, Hong Kong, Malaysia, Philippines, Singapore, Taiwan, Thailand and Japan are set to converge in Brunei Darussalam as the country will host the 14th Southeast Asia Survey Congress (SEASC) 2017 from August 15-17 at The Rizqun International Hotel.
Organised by the Survey Department under the Ministry of Development in collaboration with Brunei Institute of Geomatics (BIG) and the Asean Federation of Land Surveying and Geomatics (AFLAG), this is the second time that Brunei Darussalam will be hosting the congress. Brunei first hosted the congress in 2005.
Details of the 14th SEASC 2017 were revealed in a press conference yesterday by Haji Ali Bakar bin Haji Kasim, the Surveyor General, who is also the Congress Chairman.
Also present were Pengiran Haji Matusin bin Pengiran Haji Matasan, the President of BIG and Congress Director; Arefin bin Haji Jaya, the Acting Deputy, who is also the Deputy Congress Chairman; Haji Mahadi bin Haji Md Tahir, the Secretary General of BIG; and Pengiran Hajah Hasnaliati binti Pengiran Setia Jaya Pengiran Haji Abdul Momin, the Acting Assistant Surveyor General.
The Surveyor General high-lighted, "The objectives of the congress are to update the knowledge and understanding of professionals and experts in the field of geomatics with the latest technology and to foster understanding as well as encourage collaboration and research among experts in the field of geomatics."
The theme for this year's congress is 'Bridging the Gap', he explained.
"Asean's common aspiration and vision of an even more closely-knit regional community with the expressed aim to forge ever closer cooperation in Land Surveying and Geomatics. Geographically speaking, though we may be a lose cluster of Southeast Asian countries, we do have quite a diverse of range of socio-cultural-economic-political leanings in addition to different stages of technical uptake," he said.
The 14th SEASC 2017 also aims to be a platform for sharing ideas and best practices that will help further adopt and advance common standards as well as address various conformance issues to benefit all member countries.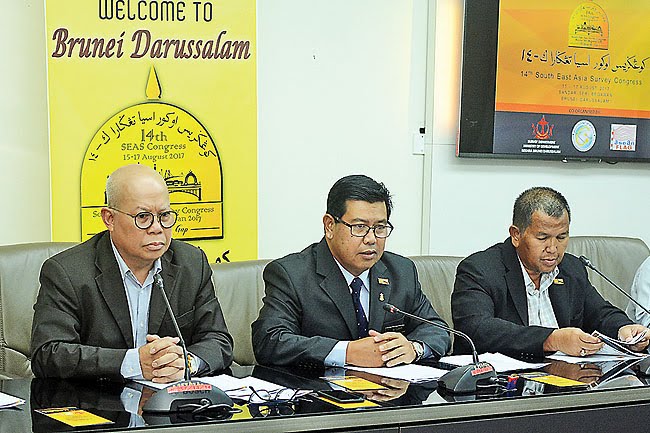 The Congress Chairman also disclosed that there will be over 70 papers for deliberation during the congress and the themes include Land Administration, Valuation and Real Estate management, Climate change and disaster risk reduction management, Land and Mapping, Falaq Syarie and others.
The plenary session will see the President of BIG delivering his speech on 'Bridging the Gap through MRA' while See Seng Guan from Surbana Jurong Consultant Pte Ltd, Singapore, will touch on Strata Housing in Singapore.
The topic of UAV Ariel survey for large scale Map Updating will be delivered by Dr Zainal A Majeed from the Department of Surveying and Mapping Malaysia, while Peter Barrat of Cloudbase Solutions from Australia will talk about Contemporary Web Cadaster.
Falak Syarie and the Land Development sessions will be held on August 16.
Pengiran Haji Matusin also revealed that the 64th AFLAG Council Meeting will also be held prior to the congress. In promoting Brunei Darussalam as a popular tourists' destination, delegates can tee off at The Empire Hotel & Country Club for the SEASC Golf Tournament while other delegates can also join a morning walk at Tasek Lama.
Haji Ali Bakar noted that this is a special year for Brunei Darussalam with the Golden Jubilee Celebration of His Majesty Sultan Haji Hassanal Bolkiah Mu'izzaddin Waddaulah ibni Al-Marhum Sultan Haji Omar 'Ali Saifuddien Sa'adul Khairi Waddien, Sultan and Yang Di-Pertuan of Brunei Darussalam's Accession to the Throne and hoped that the delegates will return to Brunei for the celebration.
Registration for the congress is open. More information can be found at www.seasc2017.org.
Article & Photos Courtesy of Borneo Bulletin